~ Shimmer
Born: 13 February 2008
Hip score: R4 / L4 Total = 8
Elbows: R0 / L0 Total of 0
Eyes: "Clear"
Gonioscopy: Excellent (100% Open angles)


Runner Up Best in Speciality,
Best in Group &
Multi Runner Up Best in Group Winner

Australian Champion
Airebis Kissed By Moonlite RN

~ She is glamorous with outstanding movement ~
....the Specialist Judges around the world agree
JUDGES CRITIQUES ON SHIMMER:
"I absolutely love the soft and smiling expression on this exquisite little girl. But she doesn't only have beauty she has substance and stamina as well. A beautiful harsh biscuit shaded coat. She flowed around the ring as if she could go all day, which accentuated her excellent construction"
Judge: Ms Christine Hale (UK) Samoyed Specialist, August 2012, Samoyed club of Victoria Championship Show
RU Best in Show, Bitch Challenge & Best Aust Bred in Show

"Excellent type, excellent head, eyes and neck, excellent coat and tail, excellent gait, excellent presentation – excellent"
Judge:
Dr Renata Fossati (Italy) Samoyed Specialist, June 2011, South Australian Championship Show.
1st Aust Bred Bitch, Reserve Challenge Bitch & Best gait
"Lovely feminine bitch, excellent head and expression, level topline, good rear quarters and tail, dark almond shaped eyes.
Showed and moved well"
Judge: Mrs Carole Hamilton (Scotland) Samoyed Specialist, June 2010, 8th National Samoyed Speciality, Queensland. 1st Intermediate Bitch
"This is a medium sized girl with a very pretty head. She has nice eyes, ears and expression. She has a very good rear, a good front and is very nice on side gait"
Judge:
Mr Larry Mackai (USA) Samoyed Specialist, June 2010, SA 50th Anniversary Championship Show.
1st Intermediate Bitch
"What a sweetie, well balanced and everything right for one of this age. Such a pretty head and expression and her movement was steady and purposeful"
Judge: Mrs Christina Chapman (UK), SCV Championship Show, August 2009.
1st Intermediate Bitch & Reserve Challenge

"Very pretty head, dark eye, very feminine. Well angulated, moved very gracefully"
Judge: Mrs Noreen Clarke (Ireland) Samoyed Specialist, June 2009, SA Championship Show.
1st Junior Bitch

(Shimmer also was awarded 1st & Intermediate in Show at NSW 50th Anniversary show under Mr I Selmovic (Croatia) but critiques were not provided to the club)


SHIMMER IS AWARDED
RUNNER UP BEST IN SPECIALITY SHOW
BITCH CHALLENGE &
BEST AUSTRALIAN BRED IN SHOW
at the 2012 Victorian Samoyed Club championship
with 128 entries
SHIMMER WINS
MOST SUCCESSFUL INTERMEDIATE BITCH
(SCV 2009/2010 pointscore)

****
SHIMMER QUALIFIED FOR
SAMOYED OF THE YEAR
2010, 2011, 2012, 2013, 2014, 2015
and at
8 1/2 years she has qualified for 2016 ​
Shimmer is the only Samoyed to qualified 7 years in a row

****
Shimmer gains her Rally Novice title
with a score of 95
Aged 10 on March 17, 2018
****

~ The girl we know & love ~
Shimmer is a sweetheart and loves attention, her party trick is with one leap jumping into Kellie's arms and then rolling over to cuddle like a baby - she adores cuddles but has plenty of energy to play fetch, dance around the house, and on weekends ride in the back of Kellie's Rav4 for their weekend adventures.

Shimmer is an active dog, who enjoys spending quality time engaging in many activities.
Shimmer enjoy's herding, agility, dancing and she especially loves dog shows. She gained her Australian Champion title at the age of 18 months and has won many Best of Breed and other awards. She shines under specialist judges as she is balanced with brilliant movement and a extremely pretty expression. In big classes she STANDS OUT!!!

Shimmer has passed her instinct herding test, and is now able to participate in Trials.
She loves going to herding clinic's to socialise with her friend "Eski" (a Belgian Shepherd) and enjoys rounding up the Sheep.

Shimmer in mid 2012 has entered the world of "Dances with dogs" and is enjoying learning new tricks.
Shimmer's nick names are; Shimmy, Shimmeroo or Miss roo, little lizzy, and the princess.

Each morning Shimmer greets us with a Toy and a Wooh Wooh
- she doesn't often bark she much prefers to talk.
Shimmer adores her toys and her pink giant octopus is currently her favourite, along with her blue dog!
A toy is never far from Shimmer... she carries them EVERYWHERE!
Shimmer has had one litter to our gorgeous Darvid and 4 will be shown;

Aust Ch Airebis Dancing in the Summer Rain "Cherry"
Aust Ch Airebis Dancing in the Moonlite "Apache"
Aust Ch/Neut Ch Airebis Dancing in a Winter Breeze "Skadi"
Airebis Dancing in Venice "Tilkah"
Airebis Dancing the Night Away "Taggers" n/s
Airebis Dancing with Wolves "Caspa" * n/s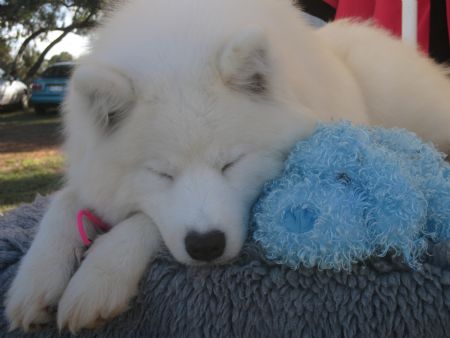 Shimmer at 6 months with her blue doggy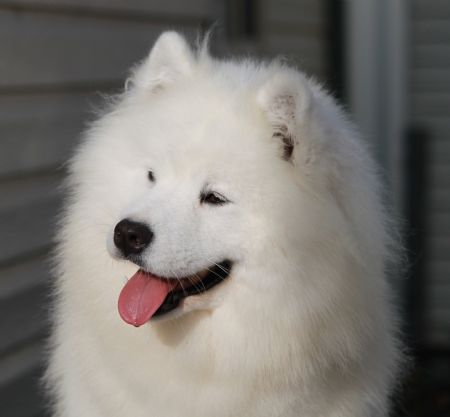 Shimmer smiling at 3 years

Shimmer is a very feminine and pretty girl, who possesses the type, soundness in movement and temperament we always strive to achieve.
Shimmer is catching the eye of many admirers a true showgirl in every sense.

Shimmer has been very successful in the show ring, at Specialities and all breed shows, her achievements include:

OBEDIENCE:
Rally Obedience Novice
14 Feb 2018 - Bega Valley K& O Club Trial - 88/100
17 March 2018 - Southern Obedience AM Trial- 82/100
17 March 2018 - Southern Obedience PM Trial - 95/100

SAMOYED SPECIALITY SHOWS:

Runner Up BEST EXHIBIT IN SHOW
** Samoyed Club of Victoria Inc (2012)

The 8th Samoyed National Qld
~ 1st Intermediate Bitch, 17 entered (2010)

Victorian Samoyed CH Show
~ Runner Up BEST IN SHOW, 128 entered,
~ Bitch Challenge & Aust Bred in Show (2012)
~ 1st Intermediate Bitch & Reserve Challenge Bitch (2009)

South Australia Samoyed CH Show
~ 1st Australian Bred Bitch (2011)
~ Reserve Challenge Bitch (2011)
~ 1st Intermediate Bitch (2010)
~ 1st Intermediate Bitch (2009)

NSW 50th Anniversary CH Show
~ Best Intermediate in Show (2009)

Queensland Samoyed CH Show
~ Best Baby Puppy in Show (2008)

ROYAL SHOWS:
1st at the 2008 Royal Melbourne Show ~ Minor Puppy Bitch (5 entered)
1st at the 2009 Royal Melbourne Show ~ Intermediate Bitch (10 entered)
2nd at the 2010 Royal Melbourne Show ~ Intermediate Bitch (9 entered)
1st at the 2011 Royal Sydney Show ~ Australian Bred Bitch (13 entered)
2nd at the 2011 Royal Melbourne Show ~ Australian Bred Bitch (12 entered)
1st at the 2013 Royal Melbourne Show ~ Australian Bred Bitch
1st & Bitch Challenge at the 2014 Royal Melbourne Show ~ Australian Bred Bitch
1st at the the 2015 Royal Melbourne Show ~ Australian Bred Bitch
~ * ~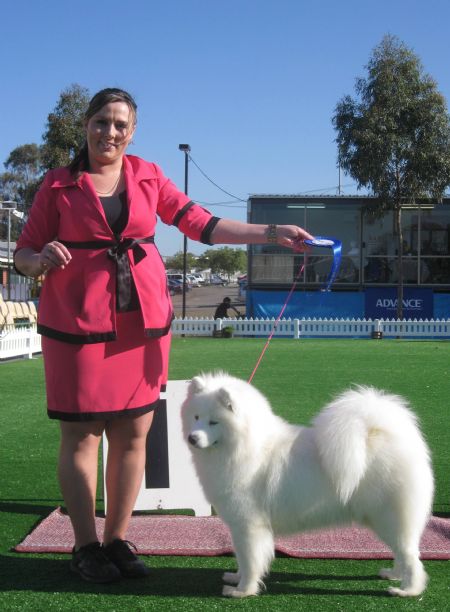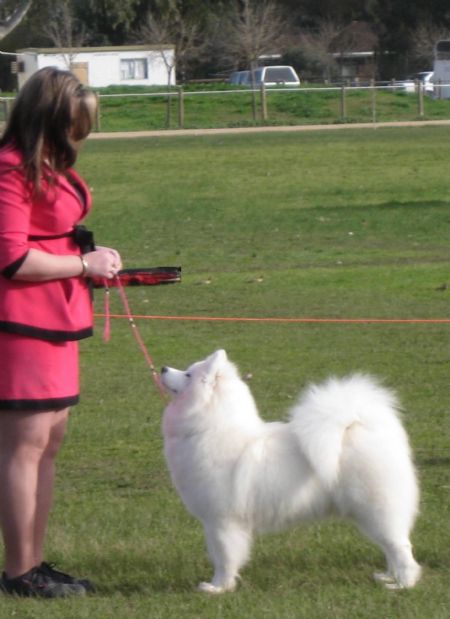 Photo's:
(Top right) Shimmer after winning Intermediate Bitch Melb Royal 2009, same year 5th in the Qualifying Annual Puppy Award at the Royal Melbourne Show 2009 with over 80 entered!
(Top left) Shimmer Winning Challenge Bitch & Junior in Group Albury 2009
Shimmers Sibblings are:

BISS/RBISS/BIG1 Aust Ch Airebis Moonlite Rendezvous "Indi"
MBIG1 Aust Ch Airebis Chase the Moonlite "Inka"
Aust Ch Airebis Moonlite Spendour "Zoe"

We are extremely proud of this litter and the success they have had along the way