~ Our National Winners Honour Roll ~
The Samoyed National Speciality Show is the most prestigious show on the Australian Samoyed calendar, it only occurs once every three years and must be judged by a Samoyed Specialist (someone won has owned & breed Samoyeds & is qualified to judge). This is the show of all shows, people from around the world come to watch, Samoyeds from all over Australia gather, a time to see the up and coming youngsters, appreciate and respect the Champions and see the generations of Samoyeds. It is held in a different state each time and generally held over two days...
Consistency, loyality and respect for our breeding has lead us to success...

*** EIGHT SAMOYED NATIONAL SPECIALITY SHOW ***

26th & 27th June, 2010
~ Queensland ~
Judge: Mrs Carole Hamilton (Scotland)
from the famous Zamoyski Samoyed Kennels

"Indiana"
Aust Ch BISS/RUBISS Airebis Moonlit Rendezvous
exhibited by Kellie Hughes

*** BEST IN SHOW ***
CHALLENGE DOG & BEST OPEN IN SHOW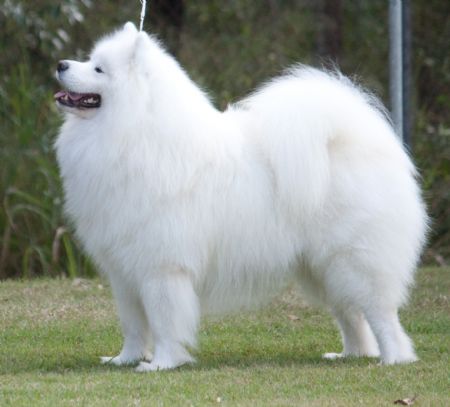 Mr Boof

and his half brother
"Sonnet"
Aust Ch Multi RBISS Airebis Moonlit Diamond Night (AI)
exhibited by Judy Hughes

*** RUNNER UP BEST IN SHOW ***
RESERVE CHALLENGE DOG, BEST MINOR PUPPY IN SHOW
&
A special award "a beautiful Zamoyski kennels rosette" given by the Judge
CHAMPION PUPPY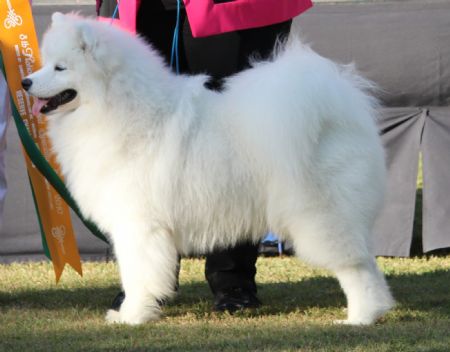 "Mr Cuddles"
Coco there mother receive most successful Dam,
Shimmer, 1st Intermediate Bitch & Best Opposite sex Intermediate
Inka & Monet were awarded 2nd in very big classes
Click on the special show results page for all the kids exciting results

* FIFTH SAMOYED NATIONAL SPECIALITY SHOW *
August, 2001
~ Victoria ~
Judge: Mr Geoff Grounds (UK)

"Tamiera"
Aust Ch RBISS/BIG Airebis Acrtic Whisper
exhibited by Kellie Hughes

*** RUNNER UP BEST IN SHOW ***
CHALLENGE BITCH & BEST AUSTRALIAN BRED IN SHOW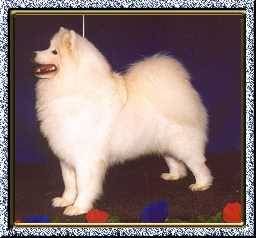 "Baby Girl"

****
~Royal Show Honor Roll~
Best in Puppy in Show
Ch Airebis I Will Always Love You "Tamikka" Royal Melbourne Show 2015
Breed winners
Ch Airebis The Power of Reflection "Dane" Dog CC & Best of Breed Sydney Royal 2014 (54 entered)
Sup Ch Artaigas Essence When I Fall In Love (imp ITA) "Darvid" Dog CC & Best of Breed Royal Melbourne Show 2014 (81 entered)
Ch Airebis Kissed By Moonlite "Shimmer" Bitch CC, Royal Melbourne Show 2014
Ch Airebis Arctic Whisper "Tamiera" Bitch CC & Best of Breed, Royal Melbourne Show 1999 (100+ entered)
Top Sire
Ch Airebis Moonlit Diamond Night (AI) "Sonnet" - 2014
Sup Ch Artaigas Essence When I Fall In Love (imp ITA) "Darvid" -2014
Sup Ch Artaigas Essence When I Fall In Love (imp ITA) "Darvid" -2015
Sup Ch Artaigas Essence When I Fall In Love (imp ITA) "Darvid" -2017
Top Dam
Sup Ch Airebis What Dreams R Made Of (AI) "Dannika" - 2015
Sup Ch Airebis What Dreams R Made Of (AI) "Dannika" - 2016
Sup Ch Airebis What Dreams R Made Of (AI) "Dannika" - 2018
~All Breeds Show Honor Roll~

Best in Show winners (BIS1)
(Multi) Supreme Ch Artaiga's Essence When I Fall In Love (Imp ITA)
​Supreme Ch Airebis I Will Always Love You
(Multi) Supreme Gr Ch Airebis What Dreams R Made Of
Aust Ch Airebis My One True Love

Best in Show 2nd
Ch Airebis The Way You Make Me Smile
(Multi) Supreme ​Ch Airebis What Dreams R Made Of
(Multi) Supreme Gr ​Ch Airebis I Will Always Love You
(Multi) Ch Airebis Czars Dream

Best in Show 4th
Ch Airebis Czars Dream
Best in Group winners (BIG1)
Ch Airebis Moonlit Rendezvous
(Multi) Ch Airebis Chase the Moonlite
(Multi) Ch Airebis Kissed By Moonlite RN
(Multi) Supreme Gr Ch Artaiga's Essence When I Fall in Love (Imp ITA)
(Multi) Ch Airebis Czars Dream
(Multi) Supreme ​Ch Airebis What Dreams R Made Of
(Multi) Ch Airebis Arctic Whisper
(Multi) Ch Airebis The Power Of Attraction
(Multi) Ch Airebis The Power of Reflection
Ch Airebis Dancing in the Summer Rain
(Multi) Supreme Gr Ch Airebis I Will Al​ways Love You
Ch Airebis The Essence Of Love
(Multi) Ch Airebis The Way You Make Me Smile
Ch Airebis Once Upon A Time (AI)
Ch Airebis I love Cookies N Cream
Ch Kursharn Vintage Velveteen
Ch Airebis My One True Love
Runner Up Best In Group Winners (BIG2)
Ch Airebis Love in The Mist
Supreme Ch Artaiga's Essence When I Fall in Love (Imp ITA)
Ch Airebis Kissed By Moonlite RN
Supreme Gr Ch Airebis What Dreams R Made Of
Ch Airebis Czars Dream
Ch Airebis Arctic Whisper
Ch Airebis The Power Of Attraction
Ch Airebis The Power of Reflection​
Supreme Gr Ch. Airebis I Will Al​ways Love You
Ch Airebis The Essence of Love
Ch Airebis Whisper I Love You
Ch Airebis Smile Your On Fire
Ch Airebis I Love Cookies N Cream
Ch Airebis The Journey of Love
Ch Airebis My One True Love

~Speciality Show Honor Roll~

Best in Show (BISS1)
Tobalsk Snegoorachka - SCV Gold Cup winner
( Multi) Ch Airebis Love in The Mist - SCV Gold Cup winner
Ch Airebis Moonlit Rendezvous - 2008 National
Sup Ch Airebis I Will Always Love You - 2016 Vic Spitz
Sup Ch Airebis I Will Always Love You - 2018 SCV
RU Best in Show (BISS2)
Ch Airebis Love in The Mist - NSW
Airebis Love In The Mist - 1998 SCV (OP)
Ch Airebis Arctic Whisper - 1999 SCV
Ch Airebis Arctic Whisper - 2001 National
Airebis Love At First Sight - 2001 - SCV (OP)
Ch Airebis Moonlit Rendezvous - 2007 NSWSC
Ch Airebis Moonlit Diamond Night (AI) - 2008 SCSA
Ch Airebis Moonlit Diamond Night (AI) - 2008 National
Ch Airebis Kissed By Moonlite RN - 2012 SCV
Airebis Whisper I Love You - 2017 SCV (OP)


Sup Ch Airebis I Will Always Love You - 2017 SCV
Best Opposite Sex in Show
Ch Airebis Arctic Whisper - 1999 Samoyed Club of Vic
Ch Airebis Arctic Whisper - 2001 National Speciality
Airebis Love At First Sight - 2001 - Samoyed Club of Vic (OP)
Ch Airebis Moonlit Diamond Night (AI) - 2008 Samoyed Club of SA
Ch Airebis Kissed By Moonlite RN - 2012 Samoyed Club of Vic
Airebis Whisper I Love You - 2017 Samoyed Club of Vic (OP)
Sup Ch Airebis I Will Always Love You - 2017 Samoyed Club of Vic
Sup Ch Airebis What Dreams R Made Of - 2018 Samoyed Club of SA

Samoyed & Puppy of The Year
2011 Samoyed Of the Year 4th - Ch Airebis Moonlit Diamond Night (AI)
2012 Samoyed Puppy Of the Year Winner - Ch Airebis The Sweetest Dream
2014 Samoyed Puppy Of The Year 3rd - Ch Airebis Dancing in the Summer Rain
2016 Samoyed Puppy of The Year Winner - Ch Airebis Whisper I Love You
2017 Samoyed Puppy of the Year 4th - Airebis Once Upon A Time (AI)
~Obedience Honor Roll~
Rally Novice Champion
Ch Airebis Kissed by Moonlite RN - March 2018
~Our Supreme Champion Honor Roll~
The Supreme title is not easy to achieve and we are extremely proud;
Darvid - The 1st Import in Australia to receive the title
Sup Ch Artaigas Essence When I Fall in Love (Imp ITA)

Tamikka - The Youngest Samoyed Bitch in Australia & 1st Bitch in Victoria

Sup Ch Airebis I Will Always Love You

Dannika - The 3rd Samoyed Bitch in Victoria to receive the title

Sup Ch Airebis What Dreams R Made Of

~Our Grand Champion Honor Roll~
being awarded over 1000 Champion points

Grand Ch Airebis Kissed By Moonlite RN